OUTPUTS
Pedagogical Framework: Describes the background of the project, goals, technology, methodology. Will also serve as performance/ technical specifications for the other products.
Media file package: Creation and collection of images, animation, text and sounds required for the learning game apps. Languages: all partner languages and English.
Game specifications: a combination of storyboard, design study and technical guide that is transferred to xml programming scripts required for the learning games.
Learning Game Apps for IOS, Android, Windows Desktop, and Windows Tablets.
Teachers' guide in all languages and English. Aimed at teachers and trainers who want to use the apps in the classroom.
Evaluation report
Website
Internal platform for project activities
---
O1-Pedagogical Framework
The output O1 - Pedagogical Framework serves as the starting point for later project work and products. It is meant to be the common work base of our partnership. In this respect the framework states not only the aims and objectives of the project and its products, but also the means, technologies and methods to reach these goals. All partners are involved in this common task right from the start and all partners participate in this task.
O1-Pedagogical Framework is available in English. The document contains 7 chapters:
National analysis of the situation of young adult dyslexic learners in the partner countries from a learner's and teacher's point of view and a comparative analysis of the situation in the partner countries
Description of transferable and adaptable elements (experience, methods, best practice, media, etc.) of former projects to mobile learning games
Definition of broad (learning) goals for the planned games
Pre-Selection results
Proposed hardware and software requirements
Overall concept for training materials, especially interactive learning designed for mobile devices
General concept of user interface
and 7 attachments that demonstrate the pre-selection of preferred pedagogical game types in the 7 training areas
You can download the full version here.
---
O3-Game Specifications
Storylines are short stories connecting different educational gaming activities. The learning games are included in the stories, which make learning more interesting.
Archaeologist Storyline
This is an interesting story about the world of Ancient Egypt. In this story, the main character can be you, but only if you follow me. I am Robbie, a friendly robot with an adventurous spirit. I will lead you into the world of mysterious pyramids, where you will encounter serious obstacles. In order to overcome them, you will need to be careful, act quickly, think logically, be prudent and not give up in the middle of the road. Be the hero in this story. I am waiting for you.
Shopping storyline
Good or bad luck? Extraordinary day in the shopping center.
The story is about youngster Robbie who prepares a party for friends. But first Robbie has to go shopping and buy some food, drink etc. Robbie appears in the middle of a big shopping center. Robbie has a clear idea of what to buy but one obstacle follows another one…..unexpected adventure in never-ending corridors of the shopping mall begins….join and help Robbie!
Tomas' leisure time
In the story, you will meet a young boy Tomas who was diagnosed as having dyslexia at the age of 8. During his leisure time, Tomas trains skills to achieve his goal of being an archaeologist like his grandfather. On sunny days, Tomas prefers to go outside and spend time at the beach while on rainy days he prefers to stay at home and play training games. Tomas has a dream….
Play the games together with him to find out if Tomas' dream will come true.
Young traveler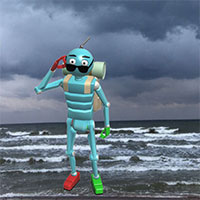 The story is about a young adult named Robbie who would like to travel around the world and explore several places, but he has some difficult situations to solve. He would be happy for your company! Will you join him?
Jenny and the family secret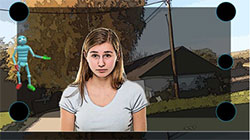 The story is about Jenny´s dilemma (which may have many youngsters too) and a family secret.
Jenny is in age of 16 and lives in Austria with her dad only in a very nice wine area that is in 30 km distance of Vienna. She feels so sad, she is so much dissatisfied. It is about her father, her mother (separated from the family), her boyfriend … it is about everything. She decides to have a break from everything… and leaves to Berlin, to her mother. There she will be faced with a family secret. At the end of the story she will not have revealed the secret only, she will also find a vision for her future life.
O5-Teachers´Guide
Free available guide for teachers, trainers and parents who want to use DYS2GO learning games online or like an android or iPhone application.
DYS2GO Guide
---
O6–Evaluation report
Free available guide for teachers, trainers and parents who want to use DYS2GO learning games online or like an android or iPhone application.
Evaluation report